The New Mitsubishi Outlander PHEV For Sale at Salt Lake Mistubishi
Explore the 2020 Mitsubishi Outlander PHEV at Salt Lake Mitsubishi
Drivers looking for a capable, eco-friendly adventuring companion will love diving into the new 2020 Mitsubishi Outlander PHEV. The Outlander PHEV is a plug-in hybrid that can help you set out on all kinds of journeys and save you some money on fuel in the process. With electric efficiency and plenty of the power and features you need to tackle your daily drive, this plug-in hybrid is prepared for whatever adventures lie ahead.
*Please call or see dealer for details
Features of the New 2020 Mitsubishi Outlander PHEV

Go Farther in the New 2020 Mitsubishi Outlander PHEV
Are you looking for a vehicle that will minimize fuel usage without sacrificing range? Check out the new 2020 Mitsubishi Outlander PHEV today at Salt Lake Mitsubishi in Salt Lake City, UT! With its plug-in hybrid engineering, this SUV allows you the capability you want and helps you create a much greener ride around Millcreek.
Interior Features
Inside the Outlander PHEV, you'll find supportive seating to help you and your passengers relax as you travel around town. You'll even find standard Power Driver Lumbar Support to help your posture and keep you comfortable, especially on long drives. Cold weather features like heated front seats and a heated steering wheel are also available to improve your driving experience.
You can also take advantage of a max cargo capacity of 66.6 cubic feet during those moments when you need to prioritize space for your gear.
Safety Features
The Outlander PHEV features a broad array of available driver-assist features to help you stay safe on the go. Technologies like Adaptive Cruise Control, Blind Spot Warning and Lane Change Assist, and Rear Cross Traffic Alert work together to help you stay out of harm's way.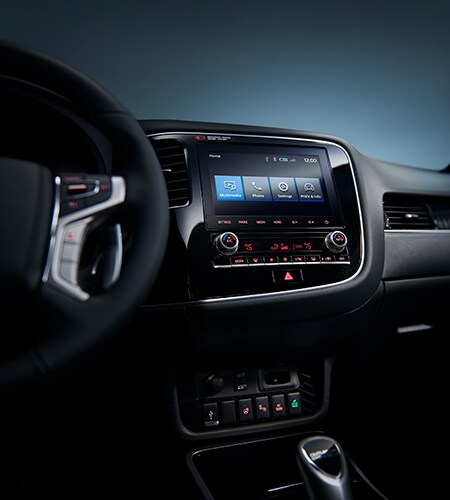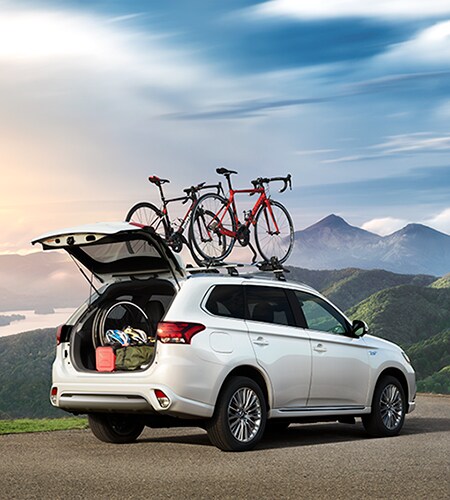 The Advanced Technology to Make Your Adventure Unique
Whether you're towing or carrying passengers, the Mitsubishi Outlander PHEV's available safety features can bring valuable peace of mind. We love the rain-sensing wipers, which automatically kick into gear when rain starts to fall - then, they adjust their speed based on the rainfall. Other available options, such as blind spot warnings and lane-change assist, make it easy to drive safely in traffic. On longer trips, the adaptive cruise control automatically maintains a safe following distance, so you can leave the system engaged as traffic ebbs and flows.
On both short and long drives, the Mitsubishi Outlander PHEV's comfortable cabin provides a relaxing experience. The fun starts with the carefully designed seats, which support your body and help prevent aches and pains. Every model comes standard with power lumbar support on the driver's side, so you can choose a custom setting. As you drive, the insulated, sound-damping cabin reduces road noise for a more peaceful drive. Heading out in cold weather? You'll love the heated seats, steering wheel, and side mirrors. The windshield wipers even feature a built-in deicer for faster thawing.
Then, there's the technology - a must for drivers who need to stay connected. The Outlander PHEV comes with Apple CarPlay™ and Android Auto™ support, so you can access your most important apps right from the Smartphone-link Display. Bring up directions, play podcasts, or make phone calls, all while leaving your phone safely in the center console. Have a different type of phone? The built-in Bluetooth connection allows you to pair the device wirelessly for easy music streaming.
Speaking of smartphones - with the Mitsubishi Remote Control app, you can access your Outlander PHEV right from your phone. Just open the app, and you can adjust the charging schedule, start the car, and change the temperature of the climate control system. That way, you know that your Outlander PHEV will be cozy and ready to go when you are.
If you're interested in learning more about the new Mitsubishi Outlander PHEV, drop in to see the team at Salt Lake Mitsubishi. We're happy to introduce this SUV's exciting features or schedule a test drive to see if it's the right vehicle for you.
Performance and Capability
The Outlander PHEV can switch between hybrid driving modes and electric driving modes to help you achieve the balance between power and efficiency you want when you're on the go. So, whether you want to go with fully-electric, zero-emission driving, or you need a little extra oomph from hybrid mode, the Outlander PHEV delivers. It can even switch between modes automatically to optimize performance.
The Outlander PHEV can even tow up to 1,500 pounds when properly equipped, which is enough to pull a pop-up camper and more!
Learn more about the 2020 Mitsubishi Outlander PHEV when you swing by our dealership today!
Plenty of Ways to Enjoy the Ride Ahead
If you're looking for ways to reduce emissions and fuel costs, the Mitsubishi Outlander PHEV has you covered. It's built with twin electric motors and a standard fuel engine, so you can switch between electric and hybrid modes for more efficient driving. Select the EV mode to enjoy an electric-only range of 22 miles - that way, you can run errands in West Jordan or tackle the drive to work without taking up fuel or creating emissions.
Ready for a longer road trip? Simply choose between the Series and Parallel hybrid driving modes, and you can travel up to 310 miles before stopping to refuel. With this smart system, you can reduce your emissions and save money at the pump. This SUV also features regenerative braking, which uses your kinetic energy to charge your battery as you drive. Just tap on the steering-wheel controls to adjust your energy recycling percentages.
No matter which mode you choose, the Mitsubishi Outlander PHEV delivers exceptional performance. It comes with a Super All-Wheel Control system, which delivers power efficiently to each wheel to ensure the best possible traction. You can even select from different driving modes, including snow and gravel, to stay in control in tough conditions around Sandy and West Valley areas. In EV mode, you'll enjoy instant acceleration for smooth, fast takeoff.
Planning an adventure? The Outlander PHEV can tow up to 1,400 pounds. Whether you have an ATV or a pop-up camper, this SUV has you covered. Opt for the available towing package, which includes a tow hitch and a wire harness for your trailer; that way, you can link the electronic systems for efficient signaling.
SALT LAKE MITSUBISHI

3734 SOUTH STATE STREET
SALT LAKE CITY, UT 84115